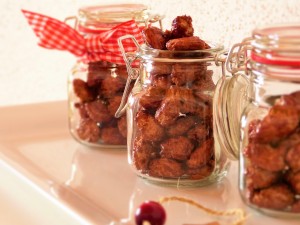 Ingredients:
2 cups whole almonds
1/4 cup Lotus Organic Coconut Sugar
1 1/2 tsp Lotus Coarse Sea Salt
3 tbs Ambrosia Organic Honey
3 tbs water
1 tbs Global Organics Coconut Oil
Method:
Spread almonds on a baking sheet in a single layer. Heat oven to 350 degrees and bake for 12-15 minutes, stirring occasionally. Almonds should be lightly toasted when removed from oven.
While almonds are baking, combine Lotus Organic Coconut Sugar and the Lotus Coarse Sea Salt together in a separate bowl.
In a saucepan, combine Ambrosia Organic Honey, water, and Global Organics Coconut Oil. Bring to a boil. Add the toasted almonds and stir until almonds have absorbed most of the liquid and the remaining is a little thinner than syrup.
Transfer coated almonds to a large mixing bowl. Add 2 tbs of the sugar/salt mixture and stir to combine.
Sprinkle remaining salt/sugar mixture over the top and allow to cool before breaking apart.
Store in an airtight jar & decorate for the perfect DIY gift!