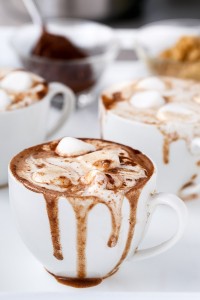 Ingredients:
1 cup almond milk
1 tbs maple syrup
1 tbs Lotus Cacao Powder
1 tbs Ambrosia Smooth Peanut Butter
Pinch salt
Pinch cinnamon
Method:
Place all ingredients in blender and process until smooth. Warm in saucepan over medium heat, stirring with a wooden spoon.
Dust with cinnamon and a generous dollop of peanut butter.
Serving suggestion: Top with marshmallows