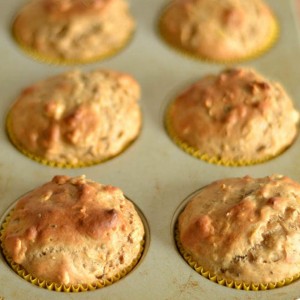 Ingredients:
2 large ripe bananas
¼ cup Ambrosia raw honey
¼ cup maple syrup
½ cup plain Greek yogurt
1 large egg
¼ cup almond milk
2 tsp vanilla extract
¾ cup Ambrosia Crunchy peanut butter
1¾ cup whole wheat flour
2 tsp cinnamon
1 tsp baking powder
1 tsp baking soda
¼ tsp salt
¼ cup chia seeds (optional)
Method:
Preheat oven to 190 degrees.
Line a 12 cup muffin tin with muffin liners
Mash bananas in a medium size bowl
Add honey, maple syrup, yogurt, egg, milk, peanut butter, and vanilla. Whisk together to combine until nice and smooth. Set aside.
In a large bowl, mix together the remaining ingredients.
Add wet ingredients to dry. Mix until well combined (no flour pockets).
Fill muffin cups to about ¾ full (or more if you have leftover batter).
Bake for 15-18 minutes or until the tops are golden brown and a toothpick inserted in the middle comes out clean.