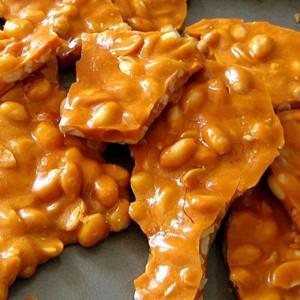 Serves: 20 pieces
Ingredients:
2 cups sugar
1/4 cup water
1 1/2 light corn syrup
3 cups Ambrosia Crunchy Peanut Butter
2 cups salted peanuts
1/2 tsp vanilla
1 1/2 tsp baking soda
1/2 tsp baking soda
Method:
Preheat oven to 140⁰C. Butter a flat baking tray and place in oven. Combine baking soda and vanilla in a small cup and set aside. Combine sugar, water and corn syrup in a saucepan. Bring mixture to boil over high heat, stirring until mixture is clear. Cook to hard crack stage at 290⁰C. Meanwhile, put the peanut butter and peanuts in a medium sized bowl and microwave for 1 minute until warm. When the syrup is 290⁰C remove from heat and add vanilla, soda and warmed peanut butter mixture. Combine and stir quickly. Working quickly, pour onto warmed baking tray. Spread with a large spoon. Cool and break into pieces.