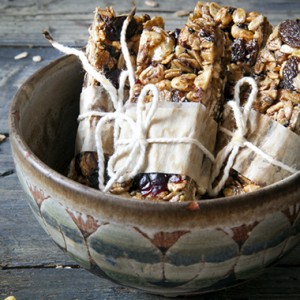 Serves: 10
Ingredients:
1/3 cup Ambrosia Organic Honey
100g dried blueberries or berry of choice
1 cup pepitas
1 cup puffed brown rice
1/2 cup traditional rolled oats
1/4 cup dark chocolate chips
1 cup medjool dates, pited and chopped
Method:
Line an 8x8 inch square tin with plastic wrap and set aside. Blend dates in a food processor to small pieces. Warm honey over low heat and pour over puffed brown rice, rolled oats, choc chips, blueberries and dates in mixing bowl. Pour mixture into tin and press down to even surface. Cover with cling wrap to set in a refrigerator for 20 minutes. Remove from tin and cut into 10 bars.