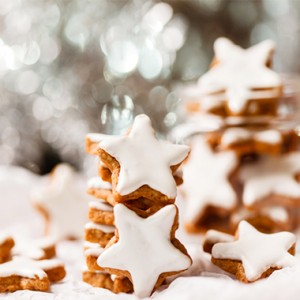 Serves: 20 stars
Ingredients:
Shortbread
1/2 cup icing sugar
1/3 cup Ambrosia Organic Honey
2 cups plain flour, sifted
1/4 cup self- raising flour, sifted
1/4 cup ground cinnamon
2 tbsp milk
Star-shaped cutter
Icing
2 eggwhites, lightly whisked
3 1/4 cup icing sugar
1 tbsp fresh lemon juice
Method:
Preheat oven to 160⁰C. Using an electric mixer, beat the butter and icing sugar mixture in a bowl. Add honey and beat until well combined. Add in flour, cinnamon and milk in a separate bowl. Add butter mixture and mi until a dough forms. Turn onto a well-floured surface. Knead gently until smooth and wrap in plastic. Refrigerate for 15 minutes. Roll out mixture on a well-floured surface until 5mm thick. Using the star shaped cutter, cut out biscuits. Place on lined baking tray and cook for 10 minutes or until golden.
To make icing, using a wooden spoon and lightly beat eggwhites. Sift icing sugar over eggwhites. Stir until smooth. Add lemon juice and stir until well combined. Spread biscuits with icing and leave for 1 hour to set.