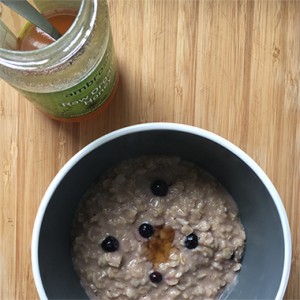 Serves: 1
Ingredients:
1 tbsp Ambrosia Organic Raw Honey
1/2 cup traditional rolled oats
1 cup milk of choice
1 tsp cinammon
1/3 cup blueberries, fresh or frozen
Method:
Combine all ingredients in a small pan and cook over medium heat while stirring. Cook ingredients in pan for 5–10 minutes until tender. Place in a bowl and top with additional Ambrosia Organic Honey. If berries are frozen, add them into pan at the beginning of the cooking process. If berries are fresh, stir through once oats are cooked through.