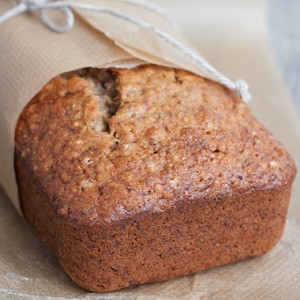 Serves: 6-8
Ingredients:
½ cup Ambrosia Organic Raw Honey
⅓ cup coconut oil, melted
2 eggs
1 cup mashed ripe bananas (about 2½ medium or 2 large bananas)
1/4 cup milk of choice or water
1 tsp baking soda
1 tsp vanilla extract
1/2 tsp salt
1/2 tsp cinnamon
1 3/4 cups white flour
Method:
Preheat oven to 165⁰C. In a large bowl, beat the oil and honey together with a whisk. Add the eggs and beat until well combined. Add in the banana and milk and whisk again. Add the baking soda, vanilla, salt and cinnamon and whisk. With a spoon, stir in the flour until just combined. Pour mixture into a lined baking tin and sprinkle lightly with cinnamon. Bake for 55-60 minutes or until a skewer comes out clean. Let the bread cool for 10 minutes. Cut into slices and serve with butter and honey.