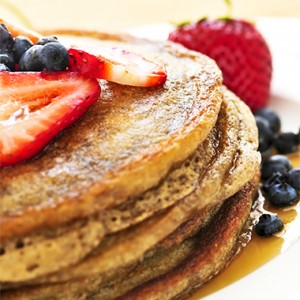 Serves: 2
Ingredients:
2⁄3 cup Ambrosia Organic Raw Honey
2 1⁄2 cups flour
3 tbsp cinnamon
1 tsp baking powder
1⁄4 tsp salt
2 eggs, beaten
1 tsp vanilla
1 1⁄2 cups milk
1⁄4 cup vegetable oil
Method:
In a large bowl, combine flour, cinnamon, baking powder and salt. In a separate bowl, combine the remaining ingredients and stir until combined. Pour wet mixture into dry mixture and mix well. Using a 1/4 cup measure, pour batter onto a greased pan at medium heat. When bubbles begin to form, flip each pancake. Continue cooking until lightly browned. Serve with extra Ambrosia Organic Raw Honey and fresh berries.