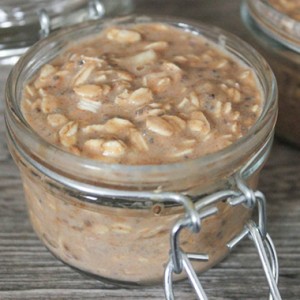 Serves: 6
Ingredients:
1/2 cup milk of your choice
3/4 tbsp chia seeds
1 tbsp Ambrosia Organic Peanut Butter
1 tbsp Ambrosia Organic Raw Honey
1/2 cup rolled oats
Method:
In a small container, combine milk, chia seeds, peanut butter and honey. Stir with a spoon until combined. Add oats and stir a few more times and ensure all oats are covered in liquid. Cover with a lid and leave to set in the refrigerator overnight. Serve with your choice of pantry toppings like shredded coconut, lsa or fruit.