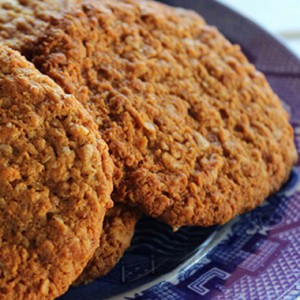 Serves: 6
Ingredients:
1 1/2 cups organic rolled oats
1/2 cup desiccated coconut
1/2 cup flaked or chopped almonds
3 tbsp olive oil or melted butter
3 tbsp Ambrosia Organic Honey
1 tsp vanilla extract
1/4 tsp bicarb soda
1 tbsp water
Method:
Preheat oven to 150⁰C. Combine oats, coconut and almonds in a food processor. Add oil, honey, baking soda and vanilla and mix for about 15-30 seconds or until just combined. Add the water and process again. Form into small cookies and place on a baking sheet lined with baking paper. Flatten down cookies with a spoon. Bake for 20-30 minutes or until golden brown. Store in an airtight container for up to 5 days.