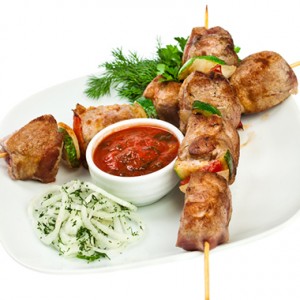 Serves: 4
Ingredients:
4 boneless, skinless chicken breasts, cubed
1 red capsicum, cubed
1 zucchini, diced
Wooden skewers
Sauce
1 tsp garlic, minced
1/2 tsp ginger, minced
4 tbsp Ambrosia Raw Organic Honey
Method:
Combine the sauce ingredients and divide into half. Marinade the chicken with half the sauce for 30 minutes. Whilst marinading, soak the wooden skewers in water. Thread the skewers with the chicken cubes and diced vegetables. Grill the chicken skewers while basting with the remaining sauce, about 6-8 minutes per side. Dish and serve hot.