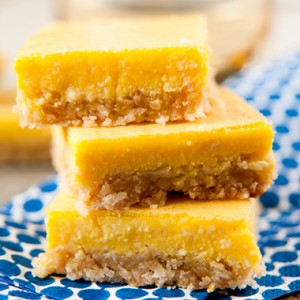 Serves: 10
Ingredients:
Crust
1/4 cup Ambrosia Organic Raw Honey
1/2 cup coconut oil, softened
Pinch salt
1 cup coconut flour, sifted
Lemon Filling
3 eggs
1/2 cup Ambrosia Organic Raw Honey
2 tsp lemon zest
2 tsp coconut flour, sifted
1/2 cup fresh lemon juice
Method:
Preheat oven to 180⁰C. Line pan with coconut oil and set aside. To create the crust, using an electric mixer, beat together honey, coconut oil and pinch of salt in a bowl until creamy and well combined. Stir in coconut flour until a dough forms. Press dough evenly into the pan and bake for 8 minutes, or until golden brown. Leave to cool for 30 minutes. Lower oven temperature to 160⁰C. In a bowl, gently whisk the eggs, honey and lemon zest. In a separate bowl, whisk the coconut flour and lemon juice until well mixed. Pour the lemon mixture into the egg mixture, whisking while you pour until evenly combined. Pour topping over crust and bake for 20 minutes or until just set. Leave to cool and then refrigerate for 6 hours. Cut into slices and serve.