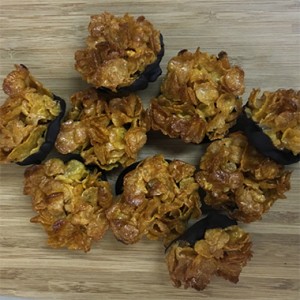 Serves: 20
Ingredients:
1 tbsp Ambrosia Organic Honey
5 cups cornflakes
120g butter
1/3 cup caster sugar
200g block milk chocolate, melted
Method:
Preheat oven to 180⁰C. Line a muffin tin with pan pans. Place cornflakes in a large bowl. Combine butter, honey and sugar in a saucepan over medium heat. Cook for 5 minutes or until smooth and well combined. Increase to high heat and bring to boil. Remove from heat and add to cornflakes bowl. Mix well until combined. Spoon mixture into each patty pan. Bake for 10 minutes or until golden. Leave to cool. Line a tray with baking paper. Dip honey joy bases into melted chocolate. Place chocolate side down onto the tray. Leave to set.