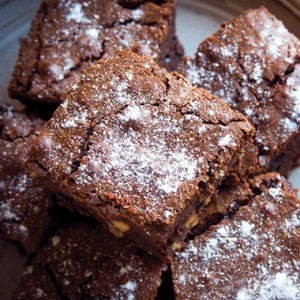 Serves: 12
Ingredients:
1/2 cup Ambrosia Organic Peanut Butter
1 can chickpeas, rinsed
2 tsp natural vanilla extract
1/4 cup rice malt syrup
2 tbsp coconut sugar
1 tsp baking powder
2 tbsp raw cacao powder
Pinch of sea salt
Method:
Preheat oven to 180⁰C. Combine all ingredients in a food processor and process until smooth. Put the dough into a lines brownie tin. Bake for 20-25 minutes until slightly browned at the edge. Remove from the oven and allow to cool. Store in an airtight container for up to one week.