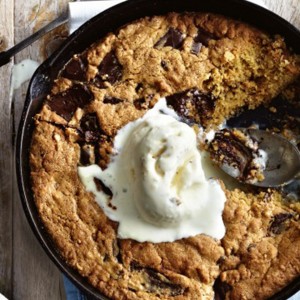 Ingredients:
150g unsalted butter (chopped)
1/2 cup brown sugar (firmly packed)
1/4 cup caster sugar
1 egg (lightly whisked)
1 tsp vanilla extract
1 3/4 cup plain flour (sifted)
1/2 teaspoon bicarbonate soda (sifted)
1/3 cup crunchy peanut butter
100g dark chocolate (coarsely chopped)
Method:
Preheat oven to 180°C.

Stir butter and combined sugar in an 18.5cm (base measurement) ovenproof frying pan over medium-low heat for 3 minutes or until the butter melts. Set aside for 15 minutes to cool.

Stir egg and vanilla into butter mixture. Stir in flour and bicarbonate of soda until just combined. Randomly drop teaspoonfuls of peanut butter over the mixture. Sprinkle with the chocolate.

Gently stir until just combined. Smooth the surface.

Bake for 25 minutes or until crisp and golden. Set aside in the pan to cool completely.

Cut into triangles and enjoy either plain or topped with ice cream.