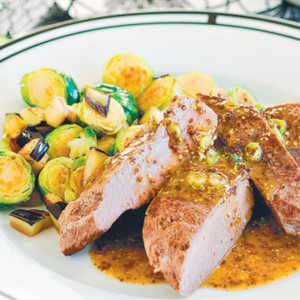 Ingredients:
450g lamb backstraps
olive oil
salt and pepper
2 tsp cornflour
1 1/2 cups beef stock
1 tbsp honey
1 1/2 tbsp wholegrain mustard
1 green onion (chopped)
Method:
Brush the lamb with a little olive oil and sprinkle with salt and pepper. Heat a large non-stick frying pan over medium-high heat. Add the lamb and cook (in batches if necessary) for 4 minutes each side or until cooked to your liking.
Remove, cover with foil and keep warm, allowing the meat to rest.
Combine the cornflour and 1 tbsp water in a small bowl and whisk until a smooth paste forms.
Place the stock, honey and mustard in a small saucepan over medium heat and cook, stirring, until sauce comes to a simmer.
Add the cornflour mixture and green onion, stirring constantly to avoid lumps forming in the sauce. Cook for another 1 minute then set aside.
To serve, thickly slice the lamb. Serve with honey mustard sauce and sauteed vegetables.