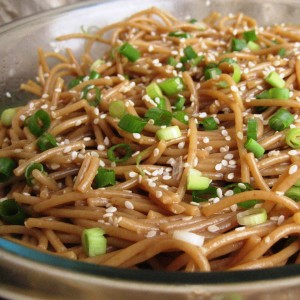 Ingredients:
Peanut Sauce:
1 piece fresh peeled ginger
2 clove garlic
½ c. chunky peanut butter
¼ c. tahini
¼ c. natural rice vinegar
3 tbsp. soy sauce
2 tbsp. sesame oil
1 tbsp. hot chili oil
1 tbsp. sugar
⅓ cup warm water
Noodles:
450g noodles of choice
2 tsp. sesame oil
1 small seedless cucumber
2 cup lightly packed fresh coriander leaves
1 small red capsicum
4 sprigs spring onion
1 cup carrots (shredded)
½ cup chopped peanuts
Method:
Peanut sauce:
Mince ginger and garlic in a food processor.
Add peanut butter, tahini, vinegar, soy sauce, sesame oil, hot chili oil, and sugar.
Process until combined; add water, process until smooth.
Noodles:
Cook spaghetti according to package directions.
Drain; rinse with cold water. Drain well. Toss spaghetti with sesame oil.
Add peanut sauce and toss to coat.
Add cucumber, coriander, capsicum, spring onion, and carrots; toss to combine.
Sprinkle with peanuts to serve.