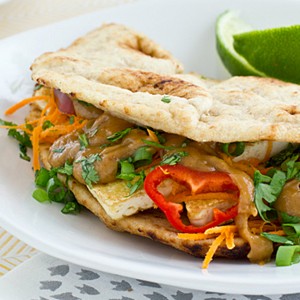 Ingredients
Crispy Tofu:
1 400g package extra-firm tofu
1 tbsp vegetable or peanut oil
Ginger Peanut Sauce:
6 tbsp. creamy peanut butter
2 tbsp. rice vinegar
1 tbsp. soy sauce
2-3 tsp. light brown sugar (to taste)
1 tbsp. ginger juice (see note)
cayenne to taste (optional)
1 tbsp. coconut milk or water
Sandwiches:
1 small carrot (peeled and shredded)
1 small capsicum (sliced)
1/4 cup sliced green onion
2 tbsp. chopped coriander
4 sandwich wraps, pitas, tortillas, or naan
Lime wedges (optional)
Method:
Crispy Tofu:
Cut tofu crosswise into 8 slices; cut each slice into two triangles. Heat oil in a large saucepan over medium-high eat.
Carefully place tofu in saucepan (the oil may spatter); cook about 5 minutes on each side or until golden and crispy.
Transfer tofu to plate lined with paper towels to absorb any extra oil.
Ginger Peanut Sauce:
Whisk together all ingredients.
Add additional coconut milk or water, one tablespoon at a time, to thin sauce if necessary. (Some peanut butters are thicker than others, so the amount you need depends on the type of peanut butter you use.)
Sandwiches:
Heat sandwich wraps, tortillas, pitas, or naan according to package instructions--you want them to be pliable so they can be folded over without breaking.
Top each with 4 pieces of tofu, shredded carrot, red pepper, green onion, cilantro, and peanut sauce and fold.
Serve with lime wedges, if using.