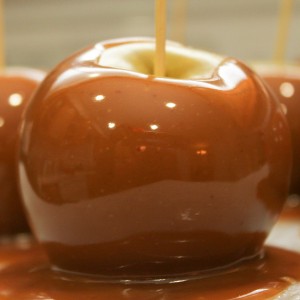 Makes 10 to 12 apples, depending on size
Ingredients
1 cup unsalted butter
2 cups brown sugar, packed
1 cup maple syrup
1 400g can sweetened condensed milk
1 tsp cinnamon
1 tsp vanilla extract
Orange food coloring (optional)
Orange shoestring licorice (optional)
Method:
In a large saucepan set over medium high heat, melt the butter. Stir in the brown sugar and reduce heat to medium, stirring frequently, until the sugar is dissolved and the butter is incorporated.
Add the corn syrup, mixing thoroughly, then stir in the cinnamon. Finally, add the sweetened condensed milk, and return to medium high heat.
Bring to a boil, then cook, stirring constantly.
Remove from heat and stir in vanilla and food coloring (if using). Immediately dip apples.
Dip apples: Hold the skewered apple at a 45 degree angle as you dip it into the caramel. Rotate the apple until it is coated completely. Allow excess caramel to drip off then place the dipped apples on a baking sheet lined with parchment paper.
Allow to cool completely before serving.