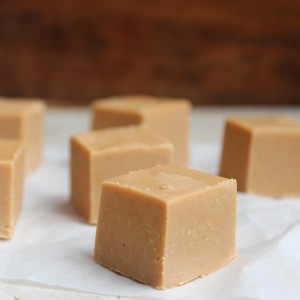 Ingredients:
2 cups caster sugar

1/2 milk

1/4 tsp salt

1/2 tsp vanilla extract

1 cup Ambrosia Smooth Peanut Butter.
Combine the caster sugar and milk in a large saucepan over medium to high heat and sit until sugar is mixed into milk. When the mixture comes to a boil (as soon as you start seeing consistent bubbles), start a timer for about 2 and a half minutes. Don't stir – you don't want to disrupt the sugar crystals.

Remove the pot from the heat, add the salt, vanilla and peanut butter. Mix with a wooden spoon until the peanut butter is melted and mixed throughout.

Pour the fudge mixture into a pan and smooth the top.

Put the pan on a cooling rack to set and cool completely (usually a couple of hours).