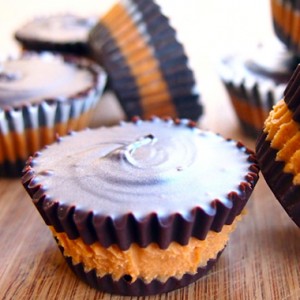 Serves: 2-4
Ingredients:
2 200g bags chocolate chips
1/2 cup Ambrosia Organic Peanut Butter
1/4 cup icing sugar
2 tbsp unsalted butter, softened
Method:
Line a muffin tin with paper liners. Melt one bag of chocolate by microwaving in a bowl for 2 minutes, stopping every 30 seconds to stir. With a small spoon, evenly distribute melted chocolate into each muffin cup. Freeze pan for 15 minutes. Combine peanut butter, sugar and butter in a bowl. Whip with an electric mixer until smooth. Remove pan from freezer and place small spoonful's of peanut butter mixture on top of each chocolate layer. Drop pan repeatedly onto bench to help flatten peanut butter layer. Freeze for 15 minutes. Melt other bag of chocolate and distribute into each muffin cup. Freeze pan for a further 15 minutes. Store refrigerated in an airtight container for up to 5 days.