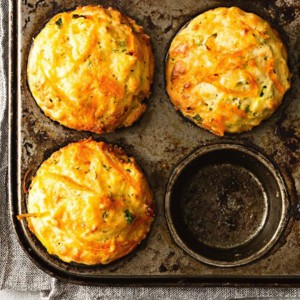 Ingredients:
1 zucchini (grated)
1 carrot (grated)
1 green onion (finely chopped)
1/2 cup grated tasty cheese
2 cups self-raising flour
3 eggs
1/4 cup extra virgin olive oil
1 cup plain yoghurt
1/4 cup Ambrosia Organic Honey
2 tbsp chopped fresh coriander leaves
Method:
Preheat oven to 190°C/170°C fan-forced.
Grease a 12-hole (1/3-cup-capacity) muffin pan.
Place zucchini and 3/4 of the carrot in a large bowl. Add onion, cheese and flour. Stir to combine.
Whisk eggs, oil, yoghurt and 2 tablespoons honey together. Add to zucchini mixture. Season with salt and pepper. Add coriander. Mix to combine. Divide evenly among holes of prepared pan. Top with remaining carrot and drizzle with remaining honey.
Bake for 15 to 20 minutes or until golden and just firm to touch. Stand in pan for 5 minutes. Transfer to a wire rack to cool. Serve warm or cold.