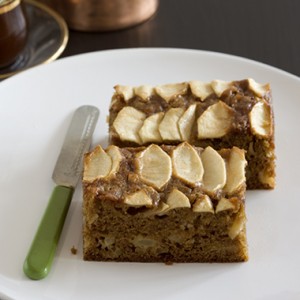 Serves: 6-8
Ingredients:
1/2 cup Ambrosia Organic Peanut Butter
250g butter
1 cup dark brown sugar
1 tsp cinnamon
1/4 tsp nutmeg
2 tsp vanilla extract
2 medium apples, peeled, cored and sliced
1 cup plain flour
1 tsp baking powder
1/2 tsp salt
3 large eggs
3 tbsp milk
Method:
In a saucepan, melt 125g butter on low heat. When it begins to bubble, stir ½ cup sugar until smooth. Add cinnamon, nutmeg and 1 tsp vanilla and stir for 3 minutes. Remove from heat and allow to cool for 1 minute. Pour into lined baking dish and layer with sliced apples. Preheat oven to 160⁰C. In a large bowl, gently mix flour, baking soda and salt. In a separate bowl, mix peanut butter, remaining butter and ½ cup sugar until light and fluffy. Beat in eggs, one at a time, then stir in 1 tsp vanilla. Slowly beat in the flour mixture until just combined. Stir in milk. Pour batter over the top of the apple mixture in the baking dish. Bake for 35 minutes or until skewer comes out clean. Leave to cool and cut into slices before serving.